Academic Poster
Online Digital Access to Medical Information (MI) for HCPs–Scientific Response Document (SRD) Pilot
Download the academic poster submitted by MILE to the DIA Medical Information and Communications Conference 2023 in Brussels, about the innovative SRDs pilot on emc.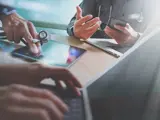 Fill the form below to view the academic poster
About the pilot:
In a profession where time is increasingly stretched, healthcare professionals (HCPs) need easy access to medicines information. However, the majority currently rely heavily on search engines to source this information.
This content therefore needs to be accessible, available on demand (24/7) and from a trustworthy source. Although pharma Medical Information (MI) teams may provide a dedicated service to answer medical questions from HCPs (e.g. via the phone), they have a limited online presence.  Additionally, HCPs value independent, general medical websites as critical sources of scientific content over pharmaceutical channels.
To address this unmet need, we established an innovative cross-industry collaboration, bringing together MILE (Medical Information Leaders in Europe), Datapharm and four major pharmaceutical companies to pilot the availability of SRDs (Scientific Response Documents) for UK HCPs.