Blog
The future is digital: How will ePILs benefit Pharma and Healthcare?
Apr 13, 2023
Simmering under the surface, the healthcare landscape is undergoing preparations which will see a great evolution in how we engage with and understand medicine information.

Simon Zedlewski
Content Manager, Datapharm
Simmering under the surface, the healthcare landscape is undergoing preparations which will see a great evolution in how we engage with and understand medicine information. Up to now, HCPs (healthcare professionals) have not had the kind of insight and awareness they should expect when prescribing medicine to the patient. But this is about to change.
The recent rise in popularity of personal health apps is a reminder to healthcare about how much patients will engage with their health information. However, enabling this level of innovation with medicine information simply cannot be achieved without an updated, widely adopted standard for this information to be shared across different healthcare systems.
One of the formats which will be central to this evolution is ePILs.
What is different about an ePIL?
Electronic Patient Information Leaflets (ePILs) are digital versions of the traditional paper-based patient information leaflets (PILs). More recently, they are being adopted by Pharma companies to present their product information to patients in a more accessible format. However, more than simply being a nicer, web-friendly format, ePILs hold a number of advantages over the traditional PIL in physical or PDF form.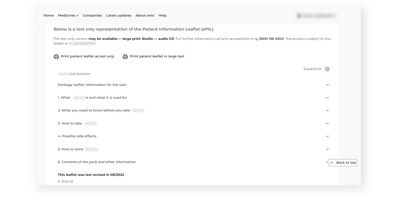 The above example of an ePIL shows product information which can navigated quickly by the patient, whichever device they use.
The benefits of ePILs
Adopting ePILs as standard would undoubtedly be make life more convenient for the vast majority of patients. However, the benefits over traditional PILs go beyond this:
Improved accessibility
ePILs can be accessed easily from a computer, tablet, or smartphone, making them more convenient for patients to access. There is also a practical case for patients with accessibility needs, such as those with sight difficulties, as this information can be more easily picked up and interpreted by virtual assistant devices.
Ensuring that patients engage with your product information is becoming more crucial, particularly as we move towards a world where the patient has more empowerment and more informed decision-making when taking medicines.
Reduce costs and compliance risks
In accumulation, printing all this information on paper is a significant cost to both Pharma and Healthcare. In a world without the need for a physical paper leaflet in most cases, where dispensers can print on-demand, Pharma's manufacturing processes can also be simplified. Furthermore, ePILs support HCPs and patients with getting hold of information which is always up-to-date, and becoming more dependent on this format can drastically reduce the number of out-of-date hard copies in circulation.
Multimedia elements
ePILs have the potential to include multimedia elements such as instructional videos and animations, making the information more engaging and easier to understand. This cannot be achieved in a PDF format, where the content is static and unstructured from a technical standpoint.
Increased patient engagement
By providing patients with easy-to-access and easy-to-understand information about their medication, ePILs can increase patient engagement and help to improve medication adherence.
What role do ePILs play in the future of medicines information?
With patients seeking to find medicine information quickly, ePILs have a huge role to play in engaging them with the medicines they are taking.
However, the ePIL has more of a role to play yet. The key to driving improved engagement with online medicines information lies with how this information is structured from a technical standpoint. ePILs facilitate this data being structured to a conformed standard, creating the potential for medicines information to be tailored to the patient, and helping them to consume this information in a way which is more specifically relevant to them.
For example, consider a patient prescribed on different medications – an ePIL could highlight to them an interaction which may arise when taking a new medicine. This is possible when the information in the ePIL is linked to the patient record.
What to look forward to: supporting Pharma and HCPs with this evolution in healthcare technology
By enabling use of the ePIL format and structured data, Datapharm is laying the groundwork for this level of innovation to be fully implemented in the UK healthcare setting. It then requires healthcare providers and systems to follow a common standard so that prescribers and patients can benefit from this tailored information. In the UK, the directive will ultimately be controlled by the MHRA, and other countries will be paying a keen eye on these developments and the healthcare opportunities for them.
With more granularity over engagement, Pharma will benefit from a greater array of intelligence to support their product research. The number of channels to update for various data points can also be reduced due to better synchronisation between healthcare systems, in turn enabling these companies to better streamline their internal processes.
How Datapharm is currently supporting its customers in Pharma
In the Life Science and wider Healthcare sectors, the conversations around ePI (electronic Product Information) continue to pick up steam. Datapharm, as ever, is here to fully support emc customers with their regulatory requirements and the upcoming improvements in the next version of emc publisher.
ePILs are soon becoming mandatory on emc – this is to ensure that the new common standard is met, and that vital safety information is accessible to all patients, including those with visual impairments.
Learn more about ePILs on emc
Supporting Pharma with providing the most up-to-date information on their medicines, SLAs are further reduced when uploading ePILs through emc publisher.
Get in touch with our experts to find out how we can help you on your digital journey with product information.