News
Datapharm welcomes new CTO and CCO to leadership team
Sep 28, 2023
Datapharm announces the arrivals of Tiffany Willcox as Chief Technology Officer and Nick Doe as Chief Commercial Officer.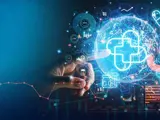 Datapharm, the leading medicines information provider in the UK, is delighted to announce the arrivals of Nick Doe as Chief Commercial Officer and Tiffany Willcox as Chief Technology Officer.
Their appointments come as the company prepares for the launch of its new publishing platform for emc. The platform will be built with medicines information processed using the new industry standard, FHIR (Fast Healthcare Interoperability Resources), which is being adopted by the wider healthcare community to drive interoperability.
Nick Doe joins Datapharm with over 25 years' commercial experience in the Pharma, Software and Data Science industries. He held senior sales leadership roles at Boehringer Ingelheim over a 12 year period of considerable sales growth, and as Head of CSMS Business Development at IQVIA worked closely with Data Science teams to develop compelling solutions for Pharma clients.
"Datapharm is in a hugely exciting company to join, showing itself as a leader in innovation for the industry, strengthened by its backbone of a great working culture. We are very much aligned with my ethos that we take on challenges together and win together as a team. I'm delighted to have joined and look forward to working together to provide our customers with even greater value while improving the effectiveness of their medicines information." – Nick Doe, CCO, Datapharm
Tiffany Willcox has over 20 years' experience in the Tech industry, 10 of which have been in Healthcare, a mixture of retail and direct care. She has previously led complex tech solutions and functions comprising of core tech, data engineering and digital teams to create innovative business outcomes.
"I am delighted to have joined Datapharm, especially given the strength of its position with UK electronic Product Information (ePI) and the adoption of cutting-edge technologies in its platforms. I am passionate about making technology easy for the customer to understand and use and I am confident in the capabilities we have here. I want to congratulate the team on what they've achieved so far with the new publishing platform and look forward to guiding Datapharm through this pivotal period in a digital evolution throughout Healthcare and Pharma." – Tiffany Willcox, CTO, Datapharm
Rich Cooper, CEO of Datapharm, added, "Tiff and Nick both bring a phenomenal amount of experience and expertise which will support us throughout our continued growth and help us develop and refine our offerings to customers. I'm really excited about the future with this strong team that we're building here at Datapharm".
About Datapharm
Datapharm runs the UK's trusted medicines information database, emc (electronic medicines compendium), listing more than 10,000 medicines and attracting a growing audience of over 84 million visitors per year. It is a pharma-preferred partner, providing innovative software solutions to support the Life Sciences and wider Healthcare sectors, serving more than 320 Pharma customers in the UK.
It also partners with a wide range of professional and voluntary health organisations to improve health literacy and decision making about medicines for patients, carers, healthcare professionals and the pharmaceutical industry.