Blog
Datapharm unveils brand new website
Jun 14, 2023
Datapharm, the leading provider of medicines information solutions for the life science industry, is excited to announce the launch of its new website. The launch follows months of tireless work by its team, mcm's development team and elliot young creative agency.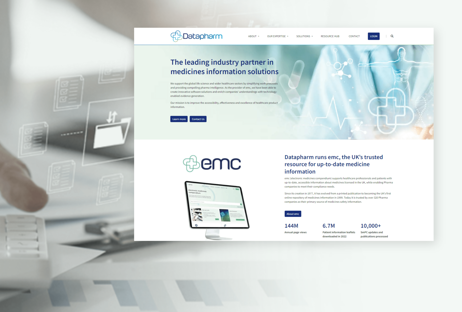 Valentina Sidore
Head of Marketing, Datapharm
The new website has been given a full design revamp, transforming the user experience, adding a brand-new resource hub for leading industry content, and bringing out the attributes which speak most to pharma's and healthcare's challenges with medicines information.
Highlights of the new website
A cleaner, redesigned interface
When designing the new website, we looked at how to improve the user journey and create a more seamless experience for browsing information. Considering that our expertise lies in the publishing medicines information, it was paramount that what we publish on our own website is logically linked and ensures the reader's time is used efficiently. The navigation has also been simplified to support this.
Conveying what we do in a way that professionals in pharma and healthcare can more easily understand
To better explain to our audiences how we support their work, we created 'Our Expertise'; a section of the website to help pharma and healthcare professionals understand how we specifically help the different functions that work with medicine information, whether it's Regulatory Affairs, Compliance teams, Commercial roles such as Medical Science Liaisons, or prescribers in the healthcare setting.
A one-stop shop for our growing library of unique industry content
We are uniquely positioned in supporting Pharma with distributing their medicines information to the wider healthcare ecosystem. As we continue to provide insights for these audiences, we wanted to make this content as easy to access and digest as possible, which inspired the creation of our new Resource Hub.
This new hub brings together a variety of articles, webinars, industry and company news, reports, whitepapers and videos all in one place, and in an easier format to consume, whether you are on desktop or mobile.
Demonstrating customer-centricity
At Datapharm, we are truly committed to exceptional customer service. We want our audience to gain a genuine impression of us; as shown from the comments and feedback we've received from our customers, we count ourselves privileged to have a knowledgeable, committed and above-all helpful Customer Success team. For this reason, you will now see more information and testimonials about the support we provide to our customers.
Josh is an absolute star! He was very patient and understanding, and went out of his way to ensure my organisation's needs were met in a very professional and timely manner. Big thanks to Josh and the rest of the team.
- Senior Medical Director, Branded Pharma
Providing comprehensive solutions for Pharma
We have continued to speak regularly with our customers so that we can best understand pharma's most pressing challenges with product information. This continued dialogue plays a crucial role in product development, resulting in more comprehensive solutions which are designed for specific functions or job roles within the pharma organisation.
Our diverse range of solutions is now communicated more concisely with a dedicated section on the new website. You can now see details on these solutions and quickly access case studies highlighting the real-world impact of these offerings.
A centralised location for our customers' solutions
Our website's login page serves as a gateway to our emc solutions. This new page helps our users, whether they are pharma, healthcare or patients, with seamless access to a range of powerful features for their work or medication management.
Get support for your work with medicine information
We are dedicated to continuous improvement and innovation. While the launch of the new website shows our forward-thinking approach, our mission remains the same – to improve the accessibility, effectiveness and excellence of medicines information.
If you would like to learn more about how we can support your work with medicine information, please get in touch.