Blog
Making medicines information more engaging: looking at the new emc website
Jan 5, 2023
emc supports Pharma with improving patient outcomes - watch our webinar to discover the next generation of digital medicines information.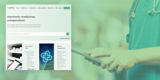 Simon Zedlewski
Content Manager, Datapharm
How are you making sure that prescribers and patients are made aware of your medicines and can most easily access and interact with your product information?
Addressing these challenges has never been more important. With increased pressure on HCPs (healthcare professionals), it is vital for them to find the right information at the right moments so that patients are treated on time, medicines are taken safely and Medical Information teams' time is freed up due to reduced enquiries.

The creation and development of emc
emc (electronic medicines compendium) has been developed with these interests considered very carefully. It is now the number one source of medicines information for 81% of HCPs in the UK and is used by the NHS daily, with 98% of HCPs able to easily find what they're looking for (source: emc user survey, December 2022).
From its creation nearly 50 years ago, emc has evolved from being a print publication to becoming the UK's first electronic repository of medicines in 1999. Since then, Datapharm has continued to find innovative new ways to support Pharma with connecting their medicines information to prescribers while fulfilling their regulatory requirements on emc and the dm+d database.
emc hosts medicines information in SmPC (Summary of Product Characteristics) format, used widely by HCPs, and ePILs (electronic Patient Information Leaflets), plus a variety of other formats including Risk Minimisation Materials (RMMs), video and audio. The website now lists vital information on more than 10,000 medicines from over 350 Pharmaceutical companies.
Discover how HCPs and patients can better engage with medicines information: a first look at the new version of emc
Our exclusive webinar explores the new, enhanced version of emc. Datapharm's Product Manager, John Moreland, has been looking after emc for the past 10 years and will provide a walkthrough of the new features and functionality, with a brief overview of its future developments.
During the webinar you will learn about:
emc's legacy for Healthcare and how it has positively impacted the management of medicines information
How medicines information is passed through to HCPs and patients
How an improved user journey on emc benefits HCPs and patients
The key role that structured data plays in improving patient outcomes