Blog
The next generation of digital medicines information: New version of emc officially launches
Feb 7, 2023
Datapharm is proud to announce the official launch of the new version of emc (medicines.org.uk).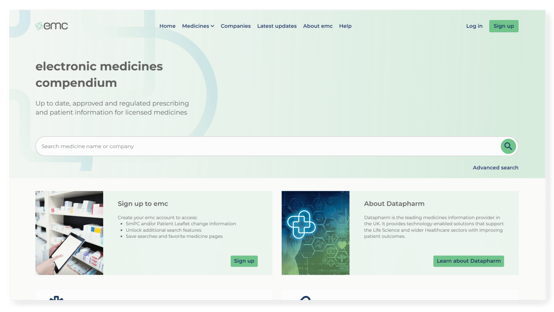 Simon Zedlewski
Content Manager, Datapharm
Datapharm is proud to announce the official launch of the new version of emc (medicines.org.uk).
The update to emc comes at the beginning of an exciting new chapter for digital medicines information. The improvements we've made align with our mission to support HCPs and patients accessing vital medicines safety information while fulfilling Pharma organisations' regulatory requirements and ultimately improving patient outcomes.
Note that the update to emc does not impact your experience and you can continue to use the website as you normally do.

Why have we updated emc?
It's part of a bigger picture
Content that emc holds is integrated into major third-party IT systems such as GP, Hospital, and Pharmacy systems. This integration means that medicines information such as SmPCs and PILs can be accessed at the point of prescribing and dispensing so HCPs always have the latest information to hand.
While this is still helpful to the HCP, the current level of integration is more basic in comparison to what will be achieved with the improved interoperability (the ability for these systems to talk to and understand each other) we are going to see in future.
By using a common data standard, interoperability for these healthcare systems will be greatly improved. This will enable medicines product information to be tailored to the individual patient rather than checking safety information separately or even missing something which could have been flagged to them.
This level of innovation would enable scenarios such as the following:
If a patient was prescribed a new medication, any interactions with their existing medication would be highlighted.

If a patient was pregnant, the prescriber would be able to see any contraindications which apply to her during pregnancy.
emc has been developed while considering use cases such as the above. Medicines data on emc is built on a structured format so that when Pharma companies submit their product information, it can be easily interpreted by these different systems.
When this structured format is used to its full potential and adopted industry-wide, emc will be well-placed to support a new and improved way of working with medicines information within the healthcare setting.
What has changed in the new version of emc?
When designing the new emc website, we looked at this bigger picture to ensure that HCPs' experiences on the website fit with the new scenarios we are about to see, such as bringing up information tailored to the patient.
Improving accessibility of the most used information was a priority with the new design, and this has now been made within easier reach on the medicine's page.
The new features of emc include:
An improved interface, including Quick Links to the most commonly viewed information and enhanced page design to support the user journey

An 'always available' search bar at the top of every page

Maintained and improved Search Engine Optimisation (SEO) - this helps ensure that emc stays within the top results on search engines such as Google when users are looking up information around medicines

A dark mode to reduce the potential effects of longer screen time

Coming soon: SRD feature being piloted in collaboration with MILE (Medical Information Leaders in Europe)
Learn more about the new version of emc
To learn more about the pivotal role emc plays in the healthcare ecosystem or find out about future developments coming to emc, watch our webinar, 'Making medicines information more engaging: a first look at the new emc website'.